You are here

The AtwoB Report - 1st Quarter 2018
The AtwoB Report - 1st Quarter 2018
Submitted by AtwoB (Point B Planning, LLC) on April 15th, 2018
Our economic analysis, market commentary and key takeaway for the previous quarter.
Boring Has Left the Building
It wasn't but a few months ago that we marveled at the complete lack of excitement in the movement of the stock market. From late-2016, through all of 2017, and for the first few weeks of 2018, the stock market increased with nary a speedbump. We've remarked on 2017 and how extraordinary it was, extraordinary for both the positive return it delivered and how boring it was by typical market standards. A true delight of a year. But, February, March and the beginning of April have shattered the veneer of market malaise. Boring has truly left the building. Through 3-months in 2018, there have already been 25+ days where the S&P 500 moved more than 1 percent, more than triple the total for all of 2017. In our view, this does not illustrate that 2018 has been abnormally risky from an investment standpoint, but that 2017 was an aberration for its lack of normal market ups and downs. Last year's beauty, it high returns and low risk, masked a modest ugly nature. It provided a false sense of security as to what it takes to be a truly disciplined long-term investor. But since we all know better, it pays to be reminded of what normal market risk looks and feels like. While we've received that reminder of late, let's zoom-out and take a longer-term view of the trade-off between risk and reward in the stock market.
The past quarter witnessed the long bull market for stocks reaching its 9th birthday on March 9th. The S&P 500 index has increased nearly four-fold over that time. Not bad. But as good as that run has been, investors have had to contend with some difficulty along the way. Including the most recent drop in the market, there have been four other corrections where the market has delivered a drop of more than 10% (see chart below). According to Bloomberg, the average correction has seen a peak-to-trough decline of 14% that takes an average of 200 days to recover (with 97 days on the low-end and over 400 on the high-end to recover the losses).
If we zoom-out even further, as illustrated in the accompanying chart from American Funds (below), we see that intra-year declines are commonplace (the orange dots). Peak-to-trough declines on an annual basis have actually averaged 14% since 1976. Most people would consider that a fairly large loss, despite that fact that we know a "bear market" is a 20% or greater loss, and two periods this century alone have seen the stock market lose more than 50% from top to bottom. But, what is also crystal clear from this picture are how many more positive years there are as compared to negative years. S&P 500 index returns were positive in 31 of those 41 annual periods. Clearly understanding the trade-off in this chart, between short-term pain and long-term gain, will always be the key for a successful long-term investment experience. Making sure that you are prepared for this inevitability and that your portfolio is aligned with your individual investment and planning "comfort zone" is our most important job.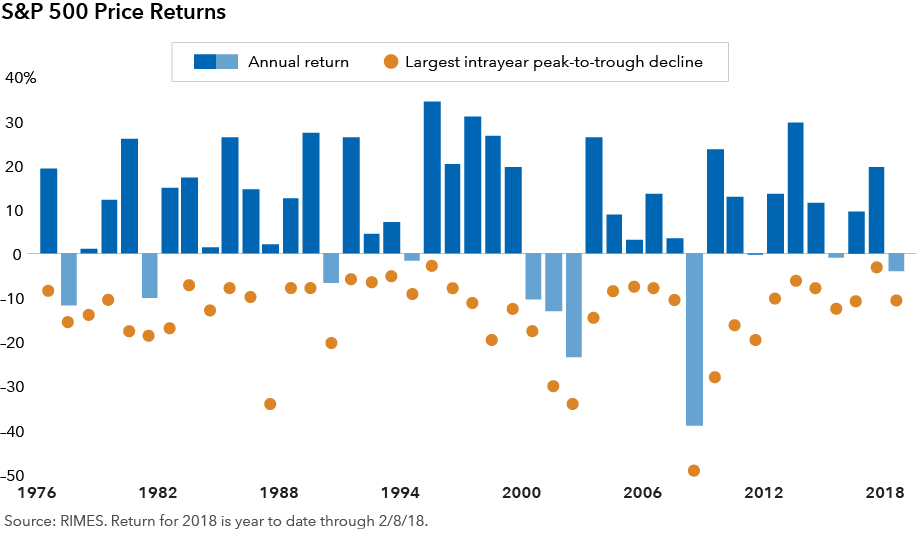 Will the Bull Market Make it To Its 10th Birthday?
If you're looking for a definitive answer to that question, you've come to the wrong place. In fact, we've yet to find the right place for consistent on-target predictions in the investment world. As we've demonstrated above, uncertainty is part of the process. That being said, it pays to have context and be aware of the forces that can push the market in the direction of another successful year or prevent it from celebrating a double-digit birthday.
The tailwinds for the market are:
Economic Growth Continues to Be Positive and Globally Coordinated, Leading Recession Indicators are Absent
Corporate Earnings Growth Has Been Strong and Profitability Remains High
Fiscal Stimulus from Tax Cuts May Provide Additional Boost
The headwinds are:
Interest Rates May Continue Rising as the Fed Unwinds Crisis-Era Monetary Policy
US Stock Market Valuations are Higher than Average and the Tech Sector is Under Siege of Late
Trade-Protectionism Gone Awry May Impact Global Growth and Create Greater Uncertainty
At least as it relates to the first 3-months of 2018, the tailwinds were extremely supportive for the stock market to begin the year, but the headwinds have held sway as of late. The market continues to vacillate and price-in these competing forces as new information emerges to support the bull or bear case. Although recently, the magnitude of the daily swings with many plus or minus 1% moves is not typically indicative of a healthy market mood. In addition, the leaders in the market for the past couple of years, the tech sector and more specifically, the FAANG stocks (Facebook, Amazon, Apple, Netflix and Google), have all been subject to backlash regarding privacy concerns, monopoly powers and regulatory chatter. Yet another new wrinkle for this bull market to absorb.
So, will the most recent bout of market decline and volatility be brushed aside as easily as the previous four occasions that have occurred since 2009? It's hard to tell. Bull markets don't necessarily die of old age, but they can have issues when monetary policy begins to tighten-up with the potential to slow economic growth. Oddly, this time around we have a major mid-late cycle fiscal stimulus (tax cut) to counterbalance the monetary tightening (higher rates), so maybe this time is different. But we know how dangerous those four words can be for investors. It can be particularly dangerous should the stimulus not accelerate growth as many expect, creating larger than expected budget deficits to be financed at potentially higher interest rates.
We sincerely hope that this raging bull makes it to age 10 and continues one of the better and longer lasting market runs we've seen. But hope does not equal expectation. We've awoken from the dream of 2017 and have been ushered back into a normal market reality so far this year. To sum-up succinctly - which way it goes, nobody knows, but we're feeling this party is getting quite tardy.
The Key Takeaway
We're not in a new market regime, just a normal one. Normal markets have risk, in the form of short-term losses, oftentimes ones that are painful. On average, these short-term losses have been around 14% both within the recent bull market for stocks since 2009 and going back to 1976. While averages are informative, we know that markets can also deliver significantly worse short-term outcomes as they did from 2000-2002 and from late 2007-early 2009. But we also know that the trade-off for short-term pain, should we handle it properly, is always long-term gain. Long-term investors are the house with the odds stacked in their favor. The only way the house loses, is if the house folds when the going gets tough. This is the game so to speak. The game has been quite easy for some time. We think it's likely to become harder. We'll continue to work with you to help you do what it takes to win your game, the only one that matters.
This report is provided as information and commentary regarding the market. The views expressed in this report are as of the date of the report, and are subject to change based on market and other conditions. This report contains certain statements that may be deemed forward-looking statements. Please note that any such statements are not guarantees of any future performance and actual results or developments may differ materially from those projected.
Past performance is not a guarantee of future returns. Investing involves risk and possible loss of principal capital. Different types of investments involve varying degrees of risk, and there can be no assurance that the future performance of any specific investment, investment strategy, or product (including the investments and/or investment strategies recommended or undertaken by AtwoB, or any non-investment related content, made reference to directly or indirectly in this newsletter will be profitable, equal any corresponding indicated historical performance level(s), be suitable for your portfolio or individual situation, or prove successful. Historical performance results for investment indices and/or categories have been provided for general comparison purposes only, and generally do not reflect the deduction of transaction and/or custodial charges, the deduction of an investment management fee, nor the impact of taxes, the incurrence of which would have the effect of decreasing historical performance results. It should not be assumed that your account holdings correspond directly to any comparative indices.
Please note that nothing in this report post should be construed as an offer to sell or the solicitation of an offer to purchase an interest in any security or separate account. Nothing is intended to be, and you should not consider anything to be, investment, accounting, tax or legal advice. If you would like investment, accounting, tax or legal advice, you should consult with your own financial advisors, accountants, or attorneys regarding your individual circumstances and needs. Advice may only be provided by AtwoB after entering into an advisory agreement. Moreover, you should not assume that any discussion or information contained in this newsletter serves as the receipt of, or as a substitute for, personalized investment advice from AtwoB. If you are an AtwoB client, please remember to contact AtwoB, in writing, if there are any changes in your personal/financial situation or investment objectives for the purpose of reviewing/evaluating/revising our previous recommendations and/or services. AtwoB is neither a law firm nor a certified public accounting firm and no portion of the newsletter content should be construed as legal or accounting advice. A copy of the AtwoB's current written disclosure Brochure discussing our advisory services and fees continues to remain available upon request.
If you have any questions regarding this report, please contact us at info@today2b.com or 914.302.3233.