You are here

Portfolio Construction
Portfolio Construction
We construct portfolios by combining investments that serve unique roles in different market environments. We utilize four different investment strategies with varying risk and return profiles. We believe these investments work well together because they typically don't experience their rough stretches at the same time. The diversification provided by the strategies will generally mean that there will always be some areas that are performing well and others that are not. Typically, this should lead to a more efficient investment experience as a higher return can be achieved for a given level of risk taken, or less risk can be taken to achieve a given return. The four strategies are defined by their objective to Propel growth, Produce enhanced portfolio income, Protect principal during high-risk periods, and Reduce overall portfolio risk using strategies that don't behave in sync with traditional stock and bond investments (portfolio example below).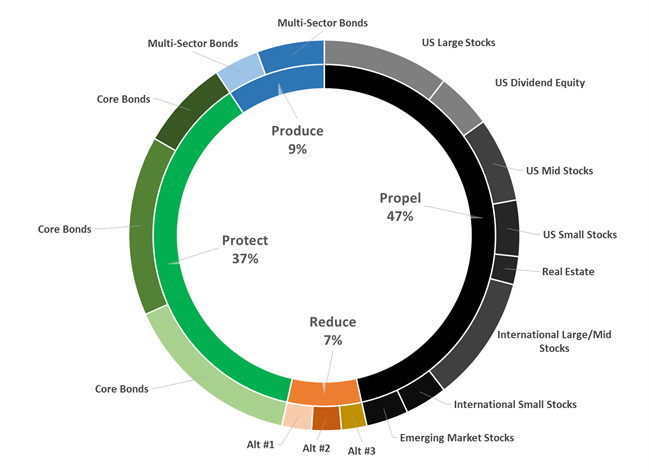 The Propel Model is designed to grow your savings with the highest expected return on investment but also the most significant risk and potential for short-term loss. This strategy is primarily invested in low-cost, stock index funds and diversified by both geography and company size.
The Produce Model is designed to provide an enhanced income stream for your overall portfolio. We believe, these investments have a more moderate expected return than stocks and an intermediate level of overall risk, but still, contain bumps along the ride. Typical investments that have these characteristics are lower quality bond investments such as high-yield corporate bonds, emerging market bonds, preferred stocks, and convertible bonds.
The Protect Model is designed to preserve a portion of your savings and aims to deliver a safe income stream, particularly during times when your higher-risk investments are doing poorly. We believe, these investments have a lower expected rate of return and a modest amount of risk. Typical investments that have these characteristics are high-quality bonds like US Treasury Bonds, Investment-Grade Corporate Bonds, and Government-Backed Mortgage Securities.
The Reduce Model is designed to lower the overall risk of the portfolio by utilizing investments/strategies that do not behave in sync with either stocks or bonds, and therefore aim to provide valuable risk reduction benefits over the long-term when added to a portfolio of traditional investments. Typical alternative investment strategies utilized are managed futures, equity market neutral, insurance-linked securities and an allocation to gold.